The reason Sado Gold Mine is not registered as the World Heritage…. What's "familiar woman of Sado mine"? With recommended spots related to Sado Gold Mine
2019/08/24
In Sado island in Niigata prefecture, there was a mine that was the largest in Japan and was worldly famous. This time, I'm introducing "Sado Gold Mine" which is known as "island of gold".Japan used to be called "Japan, the country of gold". The reason was there were numbers of mines of gold and silver all over Japan. Especially "Sado Gold Mine" was different in scale with 400kg of gold and 40t silver per year at its best. These gold and silver supported the finance of Tokugawa Edo government. Its history dates back a long time ago and after it started in Edo period, it continued mining until 1974 for 388 years. The total length of tunnel reaches 400km. Today, you can visit about 300m of them. Recently, the movement to the World Cultural Heritage registration is active.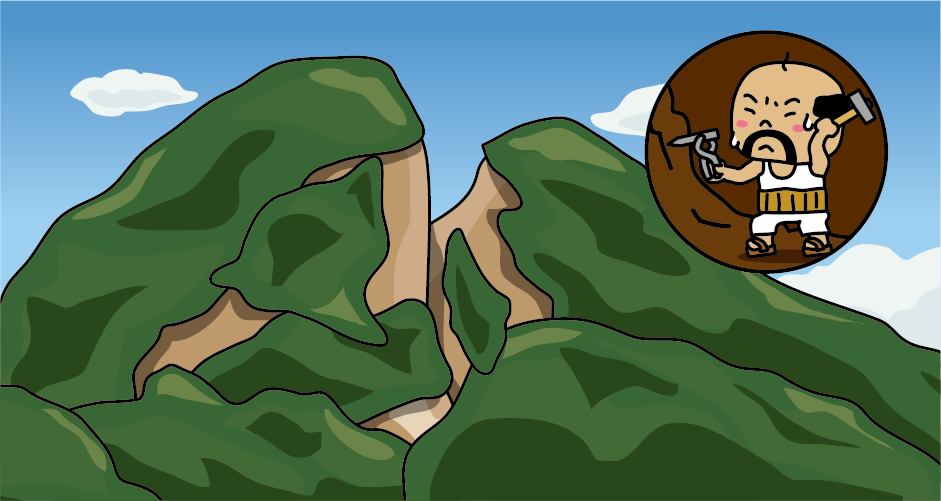 "Wareto of Doyu", the famous symbol of Sado Gold Mine. The part looking like the letter "V" was dug by men using chisel and hammer. It reaches 30m of width and 74m of depth. The bottom part of Wareto was mine digging and was redeveloped in large scale after Meiji period using European technology. Wareto of Doyu can be seen not only from far but from close by.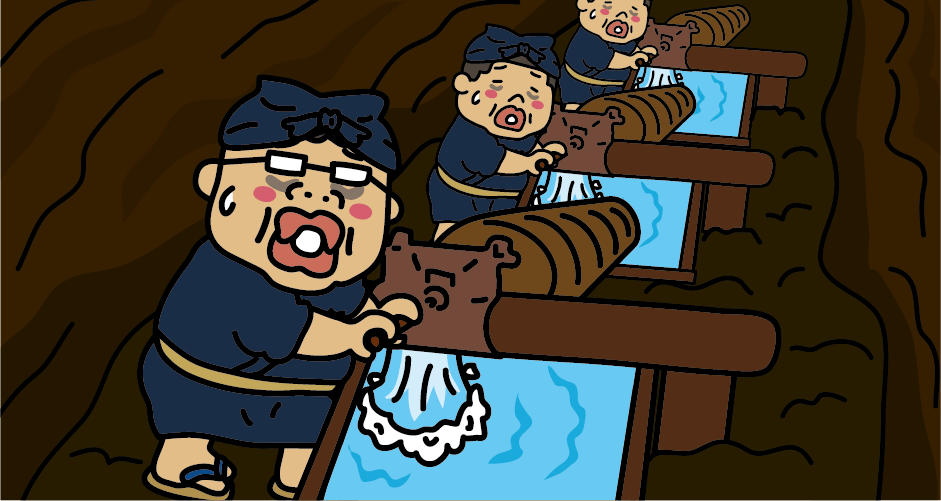 The most important task in Sado Gold Mine was discharging water. In Sado Gold Mine, tunnels were deeper than the sea level so the deeper we dug, the more water comes out. Once discharging of water won't go well, digging has to be stopped. Those who discharge water was called "mizukae nisoku (drainage laborers)". At first, they were recruited from all over Japan with high pay but the longer the tunnel, the more laborers were necessary so they sent homeless in Edo and Osaka to Sado Island and used them severely so that they couldn't last more than 3 years.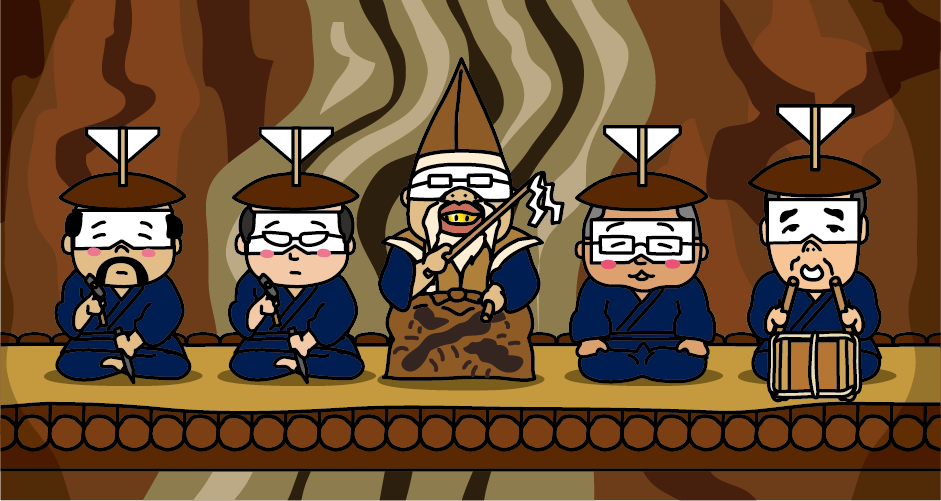 It's a Shinto ritual performing art in Sado Gold Mine called "Yawaragi". "Yawaragi" took place when large gold mine was found wishing to "soften the heart of the God of the mountain so that the bedrock become softer". Since gold mine looks like centipede, there is centipede drawn on the costume of Shinto priest. Also, since showing face to the God is disrespectful, he is blindfolded. Currently, you can actually see in Mine Festival in July every year.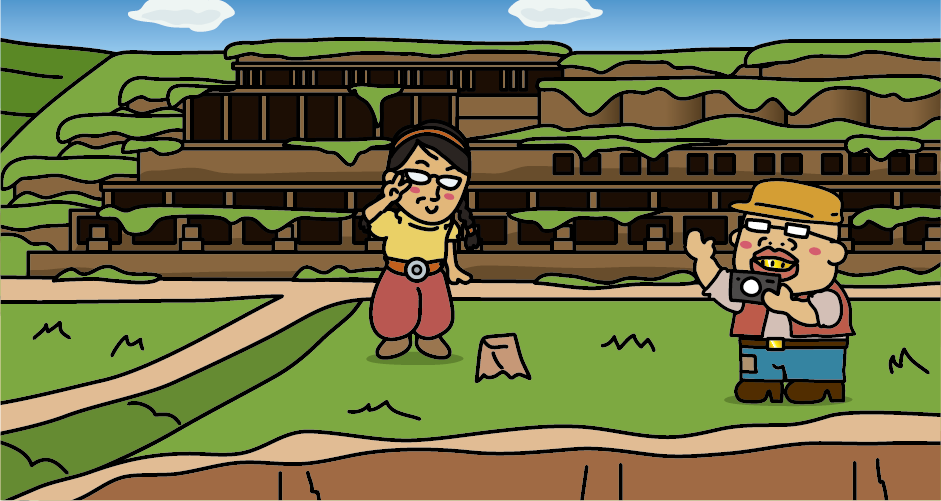 "Kitazawa floating method factory ruins" is situated in the area called Kitazawa area facilities in Sado Gold Mine where buildings contributed to modernization of Sado Gold Mine from Meiji to early Showa period are standing. It's very popular recently from visitors with its world view like "Castle in the Sky". It was the first in the world to put floating method in practical use and processed 50,000 t of mineral every month being called "the best in Asia". It will be lighten up in summer nights so you can enjoy mystical atmosphere.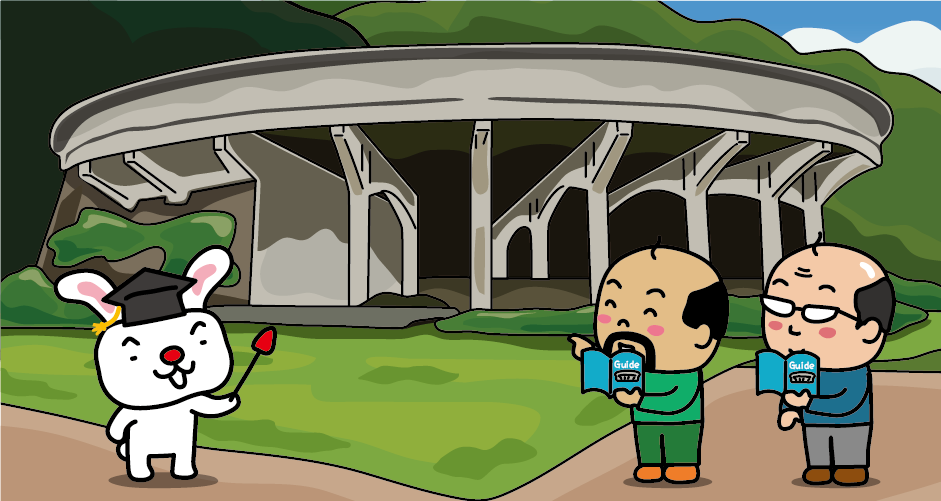 From "Kitazawa floating method factory ruins", on the other side of the small river, there stands a huge "thickener" looking like ancient Rome ruins. It was a facility to separate mineral and water from slime with low gold/silver content rate. Though currently there is only this one, there existed various thickeners of various sizes.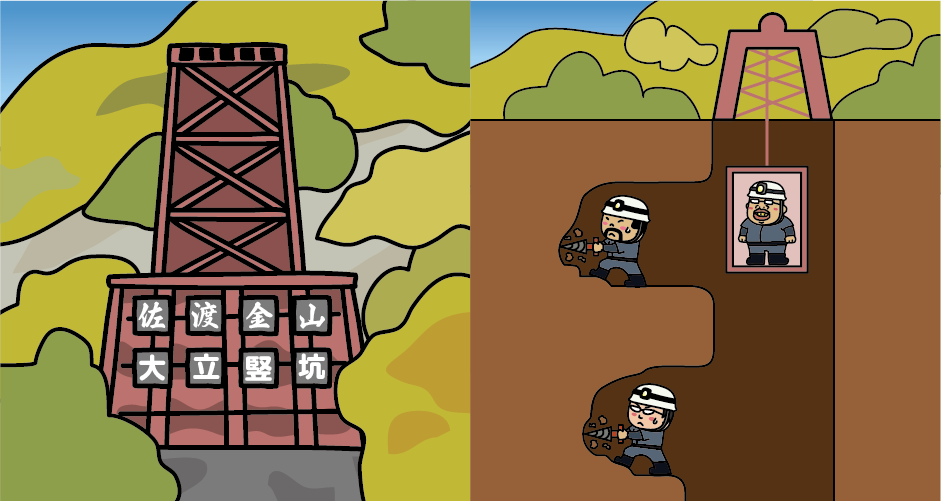 This is the oldest shaft in Japan digging tunnel vertically using European technology. It's called "Oodate Tateko". This shaft is said to be the "symbol of modernization of Sado Gold Mine" and worked from Meiji to Heisei period. The cross-section is rectangular form of about 5.7m×3.3m and the final depth reaches to 352m which is more than Tokyo tower (333m).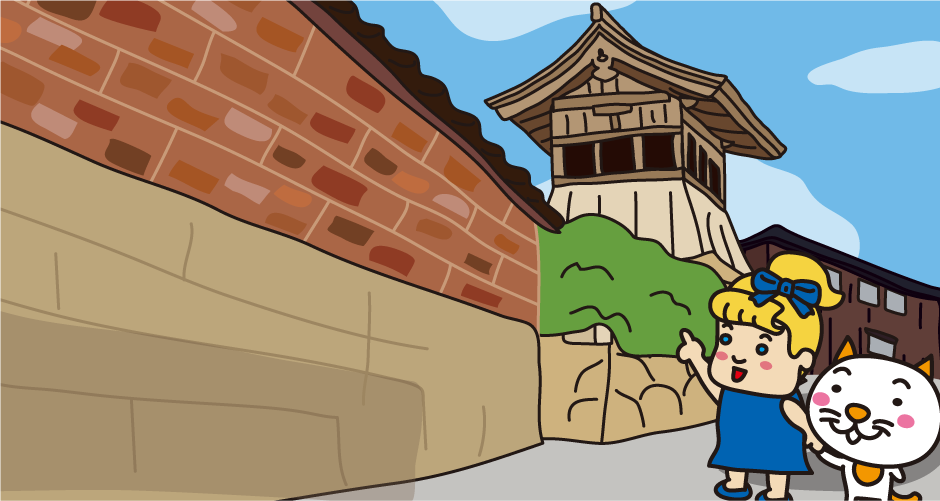 In early Edo period, the time was announced with drums in Sado magistrate's office but in mid-Edo period, Sado magistrate ordered to make time bell with coppers mined in Sado and this bell played the role of clock up to Meiji period. Time bell customs disappeared in Taisho period but in early 2000, with the restoration of the bell tower, the time bell revived.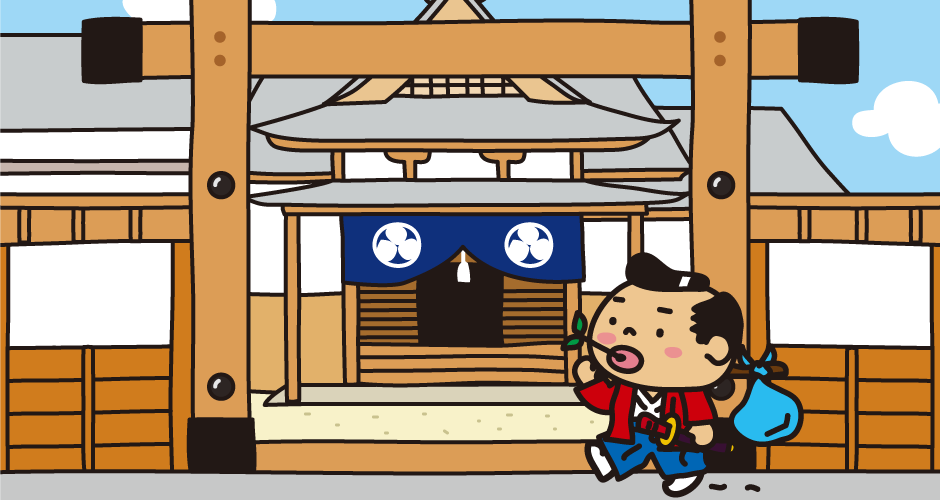 Sado Gold Mine was found just after the start of Edo period and the Sado island was controlled directly by Edo government and they placed magistrate's office in Aikawa in Sado Silver Mountain. In Sado magistrate's office, there was not only administrative office but also factory to refine gold/silver and the residence of magistrate. Sado magistrate's office experienced 5 fires and reconstructions in Edo period. It was used as administrative institution and school since Meiji but it was burned down completely by the fire after the war. Later, with ruins investigation, it was reconstructed based on the drawing of Sado magistrate's office in early 2000s.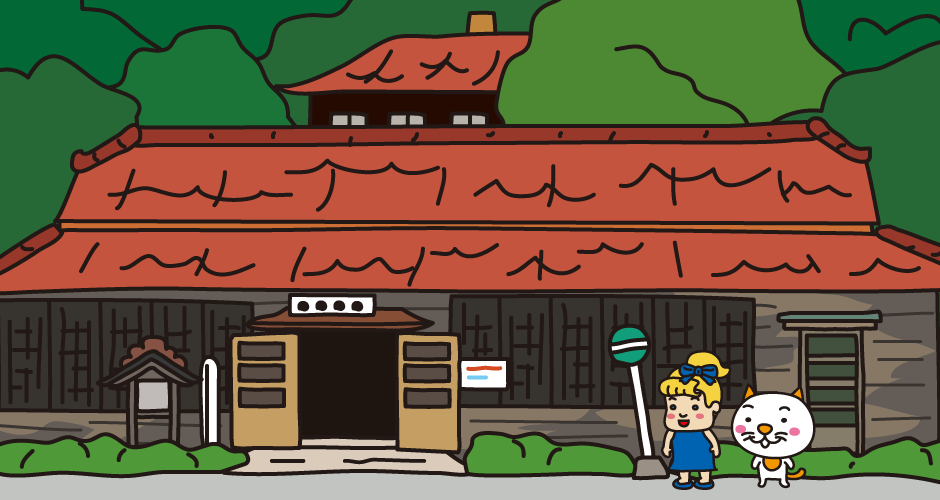 Since Meiji period, Sado Gold Mine became the possession of the imperial family so ex Imperial Household Ministry put mine office as the Bureau of Imperial Estates Sado branch. There is a roof tile with the Imperial chrysanthemum crest. Currently, it's uses as "Aikawa local museum" exhibiting various materials related to Sado oval and Sado Gold Mine.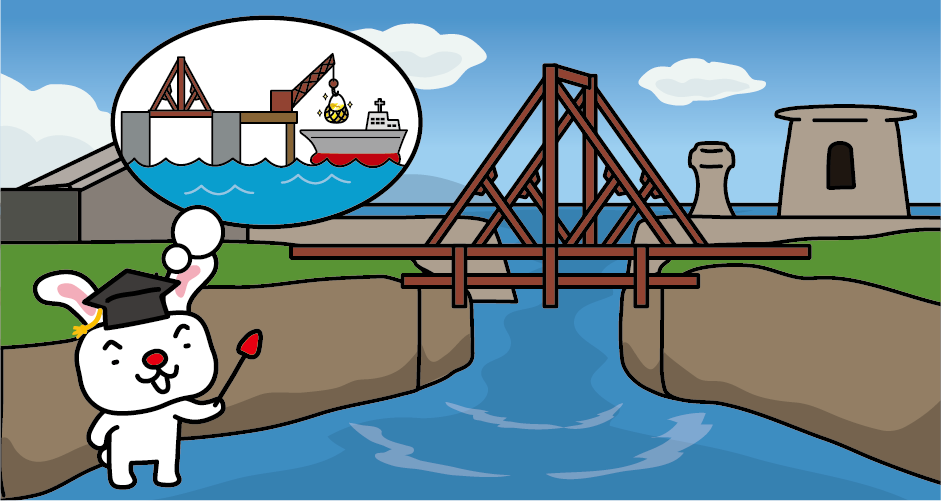 Ooma port was constructed during Meiji period in order to bring materials used in Sado Gold Mine and to take out minerals. There was no cement technology and we can still see the stone seawall more than 120 years old. Sunset from Ooma port is very beautiful.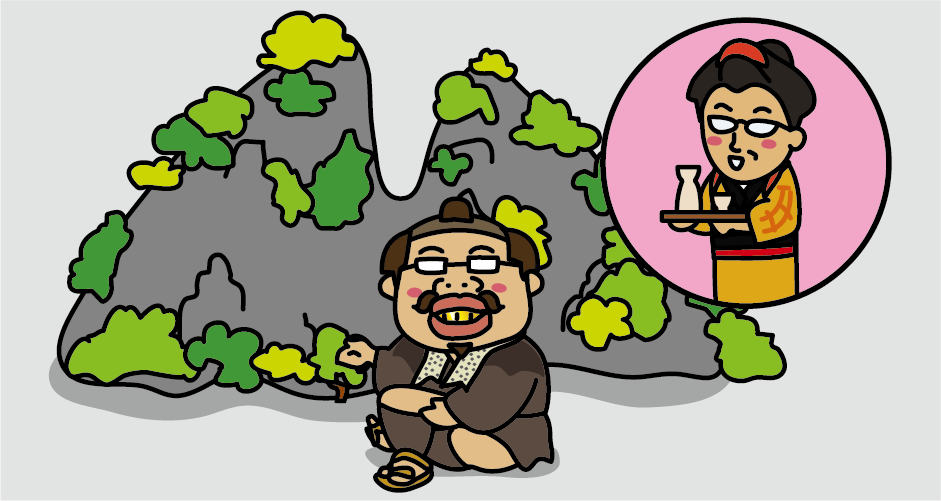 It was once discussed in Niigata committee that the reason Sado Gold Mine can't be registered as the World Heritage is that the phrase "wanna see a familiar woman" by moving doll inside Sado Gold Mine tunnel is "lowering the character". Finally, the doll hasn't been removed since it's representing the heavy work of tunnel workers and their feeling. Wanna see the Mister of "wanna see a familiar woman"… It's the very popular spot in Sado Gold Mine from old days and still is.