The bullfighting competition of Yamakoshi and Ojiya of Niigata, "Ushi no Tsunotsuki" is a traditional event that handed down for 1,000 years. There is no winner or loser, the fight always end in a draw. We want everyone to know what the cow is thinking now…, you should also pay attention to unique announcement at the site!
2019/04/27
Ushi no Tsunotsuki is the bullfighting competition which is held in Nagaoka City (Old name: Yamakoshi village) and Ojiya City, Niigata prefecture. Long time ago, those areas were called as Echigo Nijiyu-mura village. Its history is long and it is said that this bullfighting is handed down for more than 1,000 years. A story of this bullfighting appeared in the best-selling novel of Edo period, "Nanso Satomi Hakkenden (The story of eight dog samurai and princess of Satomi family in Nanso region)". And also, the Zen priest of Echigo (Old name of Niigata), Ryokan watched Ushi no Tsunotsuki and composed a poem before he renounced the world.
The bullfighting of Japan is the competition for cows to try their strength against other's, and it is currently being held in six prefectures, Niigata, Iwate, Shimane, Ehime, Kagoshima and Okinawa prefecture. Most of the bullfighting competitions in Japan decide winner and loser by fighting in unlimited time like sumo wrestling. However, in the bullfighting of Niigata prefecture, as they called it as "Ushi no Tsunotsuki", means the cow horns something in English so, nobody win or lose. By dare to make the fight end in draw at the competition, they increase the fighting spirit of cows that want to fight more. It will give confidence to them and make them stronger. Because the lost cow will lose confidence and they won't fight from the next. Also in those village, cows are cherished and raised like a family because in the past, cows are important worker to engage in agricultural works. So, people do not want to hurt cows or make them to fight until they get exhausted. This is a reason why they never decide winner or loser and make it end in a draw. Also, "Ushi no Tsunotsuki" itself was a Shinto ritual dedicated to God. Because of such cultural background, it is only bullfighting designated as an important intangible cultural property in Japan.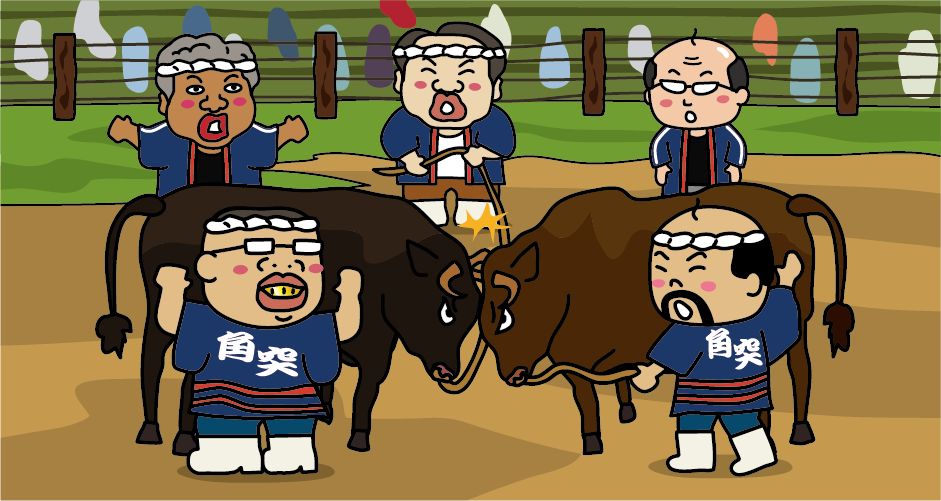 In Japan, we call the bullfighter who control a cow as "Seko". The form of Seko differ from place to place, but usually one Seko go with one cow. However, at Ushi no Tsunotsuki of Niigata, from 20 to 30 Seko join in the match. They crowd around two cows and when Seko shout "Yoshita-!" to announce its start, two cows start to fight with their horns. Seko encourages cows by tapping their bodies and shout to them. When their fight reach the climax, the crowds of Seko pull apart the excited cows. They tie a rope on hind leg of cows and pull them up. When cows get apart, Seko grasp their nose which is a weak point of cows and it is the end of fighting. Cows will be quiet once their noses got grasped. Please take a close look to wonderful collaboration of Seko.
Ushi no Tsunotsuki will be held every month from May to November every year at 2 venues of Yamakoshi bullring and Ojiya bullring.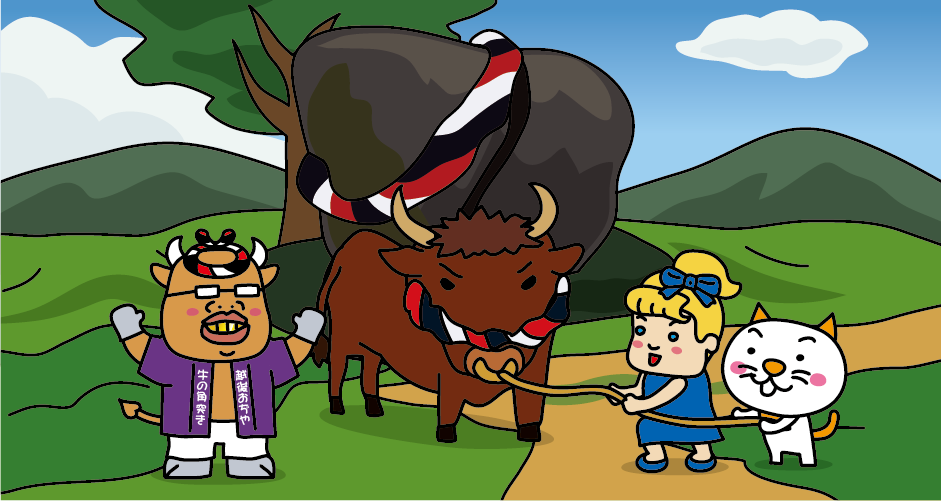 The rope of three colors which the cow wear on his nose is called "Omozuna". It is something like a decorative apron of a sumo wrestler. When the cow actually fight, they remove this rope.
There is a huge rock beside the Ojiya bullring. The rock broke into two on the day of Heisei 16 Niigata Prefecture Chuetsu Earthquake occurred. After the earthquake, as a symbol of reconstruction, this rock was named "Mimamori Iwa", means the rock of guardian. It is named from the people's wish that "I want this rock to guard the citizens from bad lucks". The look of Mimamori Iwa with Omozuna can be seen like a cow of Ushi no Tsunotsuki.