How to enjoy Takachiho Gorge! Manai Falls look up from a sightseeing boat is a superb spot of Takachiho Gorge! I enjoyed feeling water falls while rowing the boat!
2020/07/30
Takachiho Gorge in Takachiho Town is a superb spot representing Miyazaki Prefecture. Pyroclastic flow was streamed out to Takachiho and piled up by the large eruption of Mt. Aso located in Kumamoto Prefecture about 120,000 years ago and 90,000 years ago and then solidified lava became V-shaped valley by erosion of Gokase River. Column-shaped joint cliff which height is 80 to 100m continues for 7km. This is designated as a national site of scenic beauty and also a natural monument of the country.
When the fresh green is beautiful, it's recommended to rent a boat and look up "Manai Falls" from the boat. You can get exhilarating feeling just by looking a deep blue clear stream of Gokake River and waterfall splash of "Manai Falls". A lot of tourists visit there in early summer, the season of fresh green and autumn, the season of colorful leaves.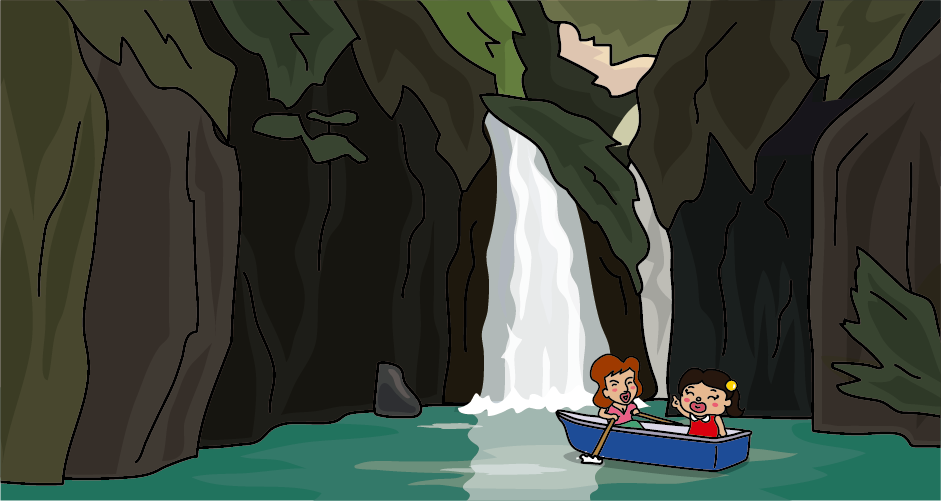 Manai Fall is a 17m waterfall flows down to Takachiho Gorge. It is also selected as "Japan's Top 100 Waterfalls". The water flow down from the pond of the nature park on the cliff of valley is Manai Falls.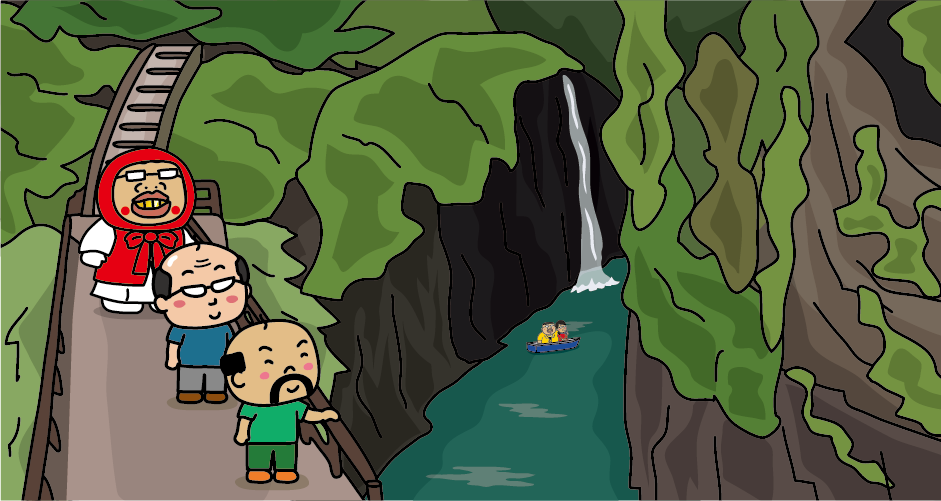 There is a promenade along Takachiho Gorge. There are some superb spots like "Manai Falls" and "Sennin no Byobuiwa (Rock of folding screen of a hermit)" Japanese mythology and historical spots such as "Kihachi no Chikaraishi (Kihachi's Strength Rock)" and "Yaritobi Bridge (Bridge of Stabbing Spears)". You can walk to Takachiho Shrine by visiting those spots.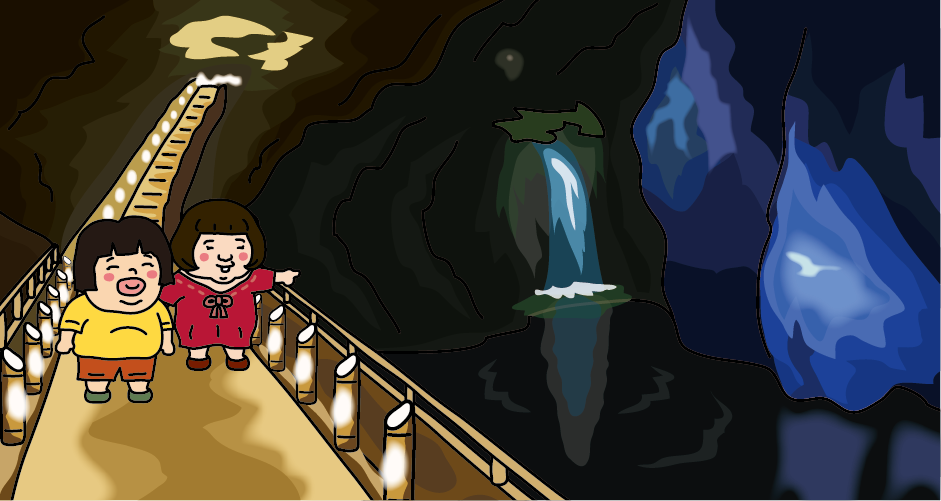 During the summer season, lights are lit up around Manai Falls until 22:00, which create a very fantastic atmosphere.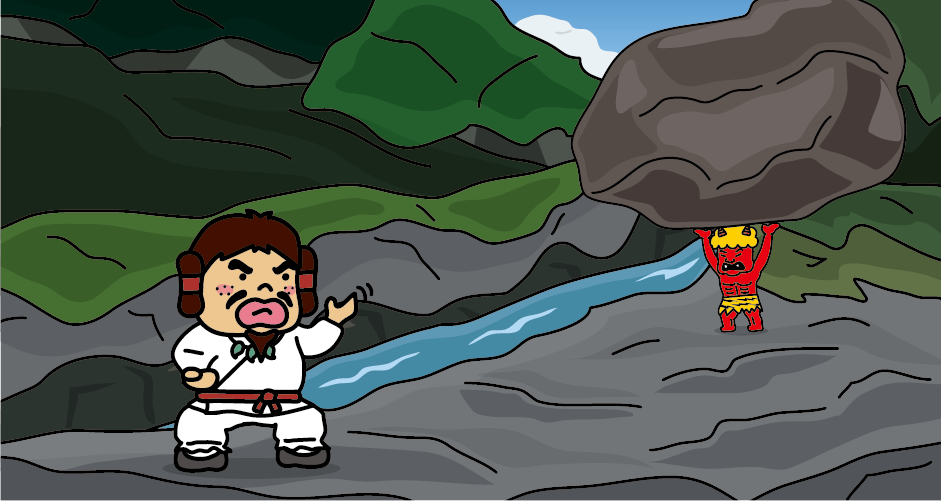 Along the promenade, there is a huge rock called "Kihachi no Chikaraishi " which height is 3m and an estimated weight is 200t. There is a legend that the god "Kihachi" who had been devastating Takachiho area threw this stone in order to show his power to "Mikeiri no Mikoto", who is an elder brother of Emperor Jimmu and also the deity of Takachiho Shrine.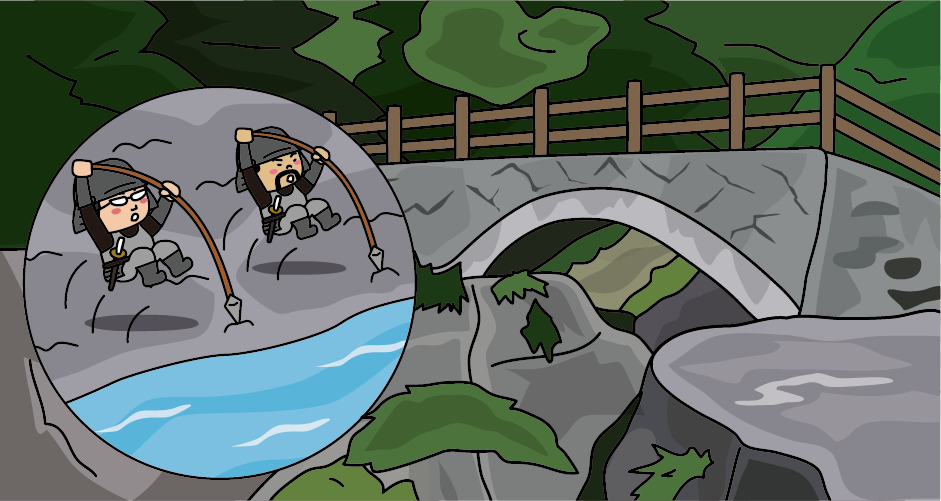 "Yaritobi Bridge" is a bridge that spans the narrowest part of river at Takachiho Gorge. By Toyotomi Hideyoshi's Kyushu Campaign, Takachiho became the territory of Takahashi family in Nobeoka from Mitai family, however, Mitai family did not follow this, and in 1592, Mitai castle was attacked by Takahashi Mototane who was a lord of Nobeoka castle and the castle fell. It is said that retainers of Mitai family who escaped from the castle cross the river by stabbing spears because there was no bridge at that time.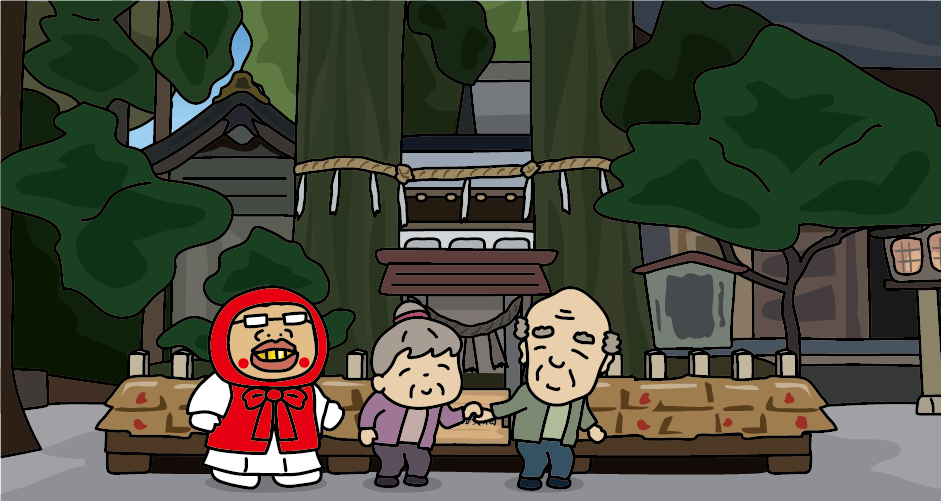 In the precincts of Takachiho Shrine, there are "Chichibu cedar" which is about 800-year-old and "Meoto cedar (couple cedar)" which two stems are connected at the root. Also, in Takachiho Shrine there is "Iron Guardian Dogs" which is said to be dedicated by Minamoto no Yoritomo of Kamakura Shogunate, is enshrined, and applicants can visit them. The iron guardian dogs from Kamakura Era (12th century) are very rare so they are designated as the important cultural properties of Japan.